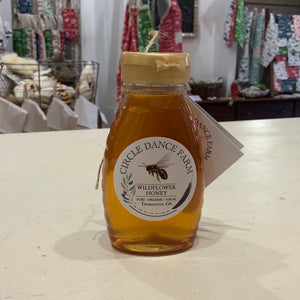 Honey by Circle Dance Farm
Sale price Price $22.00 Regular price Unit price / per
Magical Wildflower Honey
A beautiful bottle of the delicious local wildflower honey harvested by beekeeper Holly Harrison at Circle Dance Farm, just 3 miles from The Hare & The Hart. Can't get more local than that!
About Circle Dance Farm: 
At Circle Dance Farm (CDF), our honeybees work the wildflowers and native flora in the fields, alongside the natural creeks, the wiregrass piney woods, and the majestic live oak forests around us.
The amazing honey our bees make will vary in color from light to dark depending on which flowers are in bloom. CDF honey is pure, raw, honeycomb-to-bottle honey. Harvested by hand in small seasonal batches, CDF raw honey is magical because of what is in it. Our raw honey is full of vitamins, minerals, micronutrients, pollen, protein, antioxidents, and 18 different amino acids!
This CDF raw honey is an incredible superfood and miraculous skin healer! Every single drop of this honey is very precious. Each bee works tirelessly collecting flower nectar from sun up till sun down and still will only produce only 1/12th of a teaspoon of honey in her lifetime. Thank you for purchasing this honey because you are keeping Circle Dance honey bees healthy, and you are keeping our local environment pollinated!
One flower at a time,
Holly Harrison, Circle Dance Farm